Regular price
€44,99 EUR
Sale price
€19,99 EUR
Unit price
per
Sale
Sold out
Sonance Sounds - Bass House Course
Delivered straight to your mail

Once you've bought one of our products we will directly deliver it to your mail, so you can instantly start making new music!
Any questions?

Feel free to contact us and we will help you as soon as possible!
Share with your friends
View full details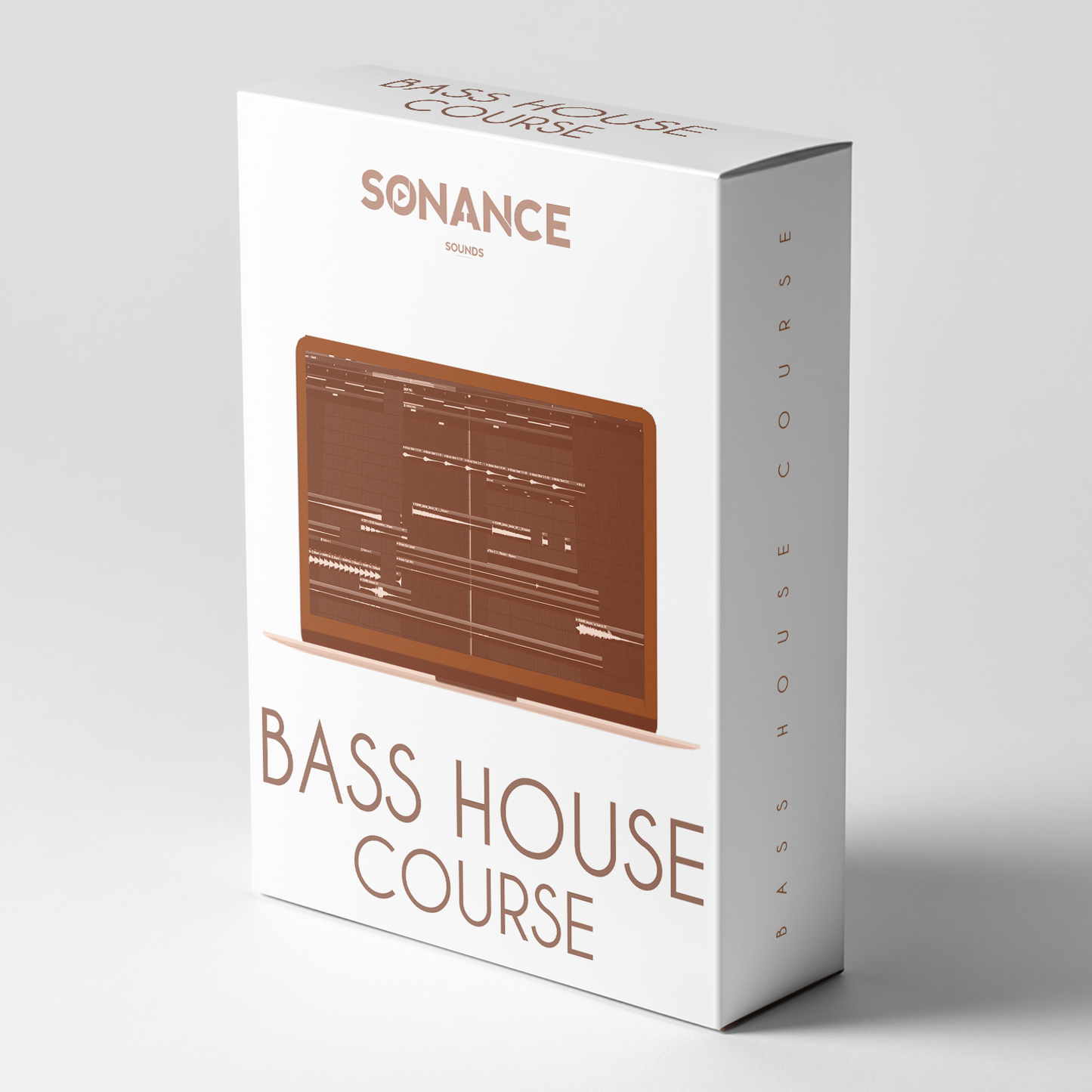 Buy it now, Download It Anytime Directly From Your Mail
ONE TIME LAUNCH OFFER PRICE
BASS HOUSE COURSE: THE GUIDE TO PRODUCING BASS HOUSE

In the course we'll be making a full bass house production completely from scratch. I'll show you all the techniques that go into producing a bass house record.

In just 7 chapters, you'll learn everything you need to know to create your own killer bass house track from start to finish.

We'll cover all the key elements of a great bass house track, including drums, bass, leads, vocals, arrangement, referencing, and mastering. With each chapter, you'll gain valuable insights and techniques for creating high-quality tracks that will keep your audience grooving all night long.

Whether you're a seasoned producer looking to take your skills to the next level, or a beginner just starting out, my course has something for everyone. So don't wait - enroll today and start creating amazing bass house tracks that will set the dancefloor on fire!
THE TRACK WE PRODUCE TOGETHER:
Introducing my brand-new course on producing bass house, where I'll take you through every step of producing a tech house track from start to finish. With 7 comprehensive chapters, you'll learn everything you need to know to create your own killer bass house track.

In Chapter 1, you'll learn all about the most crucial element of any bass house track - the bass. You'll discover how to make a crunchy lead stack that will blow away your listeners.

In Chapter 2, we'll dive into the drums, the backbone of any tech house track. You'll learn how to create drums that will keep your audience grooving. We'll dive into elements as groove drums & sirens.

Chapter 3 is all about the Vocals. I'll show you how to implement vocals in your bass house track the right way.

In Chapter 4, we'll dive into the breakdown. I'll show you all the elements a proper bass house production needs.

Next up, in Chapter 5, we'll dive into the build-up of a bass house production. I'll show you the elements a track needs to create a lot of tension.

In Chapter 6, we'll take a deep dive into arrangement. You'll learn how to structure your track for maximum impact and energy, ensuring your audience stays engaged from start to finish.

Finally, in Chapter 7, we'll cover mastering. You'll learn how to give your track that final polish and ensure it sounds amazing on any system.
When we started to make the pack, we analyzed & broke down the most popular songs by Fred Again. We noticed that the drum sounds and placement are a quite different compared to other genres. That's why we decided to add a huge sample pack to Chemicals.

The drums are a melting pot of Breakbeats, Jacking UK house drums and Bass House drums. The pack included one-shots as well a lot of groovy drumloops to kickstart your workflow.

We also included a lot of ambiance sounds to the pack. Fred again's style is build around a lot of ambiance sounds, So we couldn't let that out of the pack.

Without doubt, Chemicals contains all the sounds you need to produce this style of music.


Chemicals - Sample Pack
VALUE: €14,99
COURSE BONUS: SAMPLE PACK + FLP FILE
But that's not all - when you enroll in the course, you'll also receive a bonus sample pack that includes all the samples used in the track, all the presets used, the vocal, and the project file.

This sample pack is an invaluable resource for any bass house producer. You'll have access to all the sounds and settings used in the course, so you can start producing your own high-quality tech house tracks right away.

With this bonus sample pack, you'll be able to reverse engineer the course project and see how everything fits together. You can study the arrangement, learn from the mixing techniques, and use the samples, vocal and presets in your own tracks.
What our customers think:
"Awesome pack once again! Never dissapointing 🔥🔥"
"Got all the tech house packs , will make sure I don't miss this one"
""Thank you for this amazing pack!!"
IMPROVE YOUR TECH HOUSE PRODUCTION WITH THE DIRTY TECH COURSE
Trusted by artists from labels as:
100% Satisfaction Guaranteed:
I truly believe in this pack and put a lot of hard work into this project. I believe that it's from a impressive quality. That's why I'm offering a 100% money back guarantee for 30 days after your purchase. If you're not satisfied, just email me your purchase receipt and you'll get your money back.